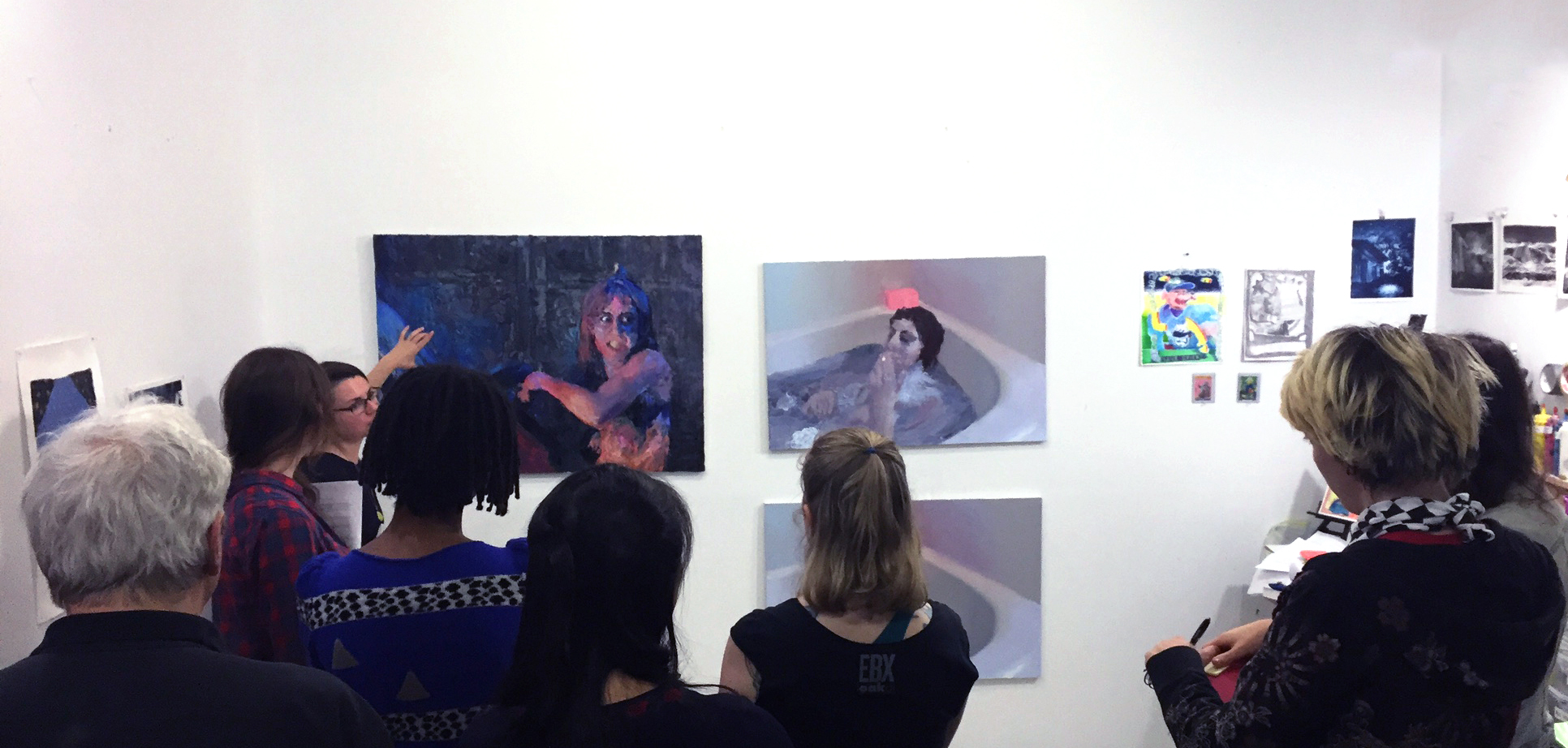 NYC CRIT CLUB SPRING 2018
NYC CRIT CLUB 2018
Get feedback and professional advice from a new group of artists, instructors, and guest critics!

Improve your work for applications to residencies, graduate schools, and group shows.

Broaden your art community and participate in a group show at the end of NYC Crit Club!

Take your work and art career to the next level. Apply today!

Apply to NYC Crit Club's NEW SUMMER SEMESTER!:
$25 to apply
Currently we are taking applications on a rolling basis!
HOW TO APPLY
1. Email us a link to your website that includes Images of your work, CV or Bio and Artist Statement. Please include the following in the subject line of your email: Application: Your name. *

2. In the Body of the email please also include answers to the following questions:
1. Which class option are you most interested in? NYC Crit Club Summer session Or one of our independent or online class options A-D (see below)?
2. Which Summer Dates could your definitely participate in? We know people leave for summer vacations and that's ok! Please let us know the dates you can participate this summer between the end of June to the Middle of August and when you will be away.
3. Which day of the week do you prefer to participate in classes: Monday, Tuesday or Wednesday?
4. If interested in joining NYC Crit Club's New Summer group classes do you have a studio that can be visited by the class and if so what is the address.
After sending please send application fee via Venmo to @HilaryLdoyle.
*If you do not have a website: Email us 5-10 jpgs of your work (under 1mb each), resume/CV or bio and Artist Statement
Those who apply sooner have a better chance of gaining acceptance into the class also! Classes may cap depending on enrollment, per week.
NYC Crit Club
New NYC Crit Club Summer Info
Class description
NYC Crit Club holds grad school-style group critiques of serious NY artists. Our goal is towards improving the work of every artist in the group collectively while building a strong community. Critiques are held at different artist's studios on a rotating basis as well as at Galleries and Art spaces across the city (TBD). All artists present on a three week rotation to the whole class. Participating artists take turns hosting and share their work in their studios for 25-30 minute crits in their studios at the start of class, followed by 3-4 20 min crits of presenters work by the whole group. Assignments to facilitate the development of each artists unique project are given and brought in on a three week rotation that fits each artists schedule. Those not presenting are encouraged to bring a question to help with their artistic practice for the faculty or group to answer that day also. Guest critics join for critiques in the middle and end of the semester. The class culminates with a group show (Space tbd) of the work created in the class*!
*participation in the group show is contingent on attending at least 11 of the 15 total classes...
Affordable Pricing for Artists
Artists reserve their slot and RSVP by Venmo-ing before class each week (Specifics TBD in emails. All classes are non-refundable.)
$20 Per class Venmo-ed the week before class to reserve your slot
$25 for the two guest critic classes in the middle and end of the class
Homework
Participants are to bring work on a 3 week rotation: All members are expected to attend all classes even if not presenting to help support and help each other develop the dialogue and the work.
Weeks 1-3: Habit Breaking Crits: Participants bring a favorite piece for obstruction critiques- This should be a piece you love and would be interested in remaking in a new way. These are important challenge/habit breaking critiques.
Weeks 4-6: Studies: Artists bring in studies for a new cohesive body of work that are a product of obstruction/ habit breaking critiques. Studies are small works in any media that can be made quickly and in series: small drawings, small paintings, digital drawings, sketchbook drawings
March 13/14- Artists bring best works to show Guest Critics who will lead crits during simultaneous individual visits with Haggarty/Doyle (Also a chance for artists w/o studios to present additional work and have crits first).
Weeks 8-15 Critiques help further develop work through individualized assignments and additional projects: collaborations, participants-studio-visit exchanges, and professional practice reviews and more are introduced)
Critique
We critique as a group to help improve each artist's work week-by-week. To get the most value out of each critique experience, each critique is tailored to what you would like feedback on and homework. All participants in the class should be open to change in their work so that they can really grow. Students can choose to try out optional assignments to complete for the following class, or receive feedback on what's working and what can be improved upon.
Dates/Times
This Summer we will have two separate sections of the same class: Both classes are taught every other week by both Catherine Haggarty (artist and Gallery Director of Ortega Y Gassett) and by Hilary Doyle (artist and RISD + Purchase College critic/faculty) so no matter which day you choose you will get to work with both instructors.
Please Choose (in your application) either:
Monday Section: 7-9 pm
Tuesday Section: 7-9pm
Wednesday Section: 7-9pm
The classes will be the same essentially, taught by both Hilary and Catherine every other week, just with 2 new seperate groups. So, for example, if Tuesday is best for your schedule you will still work with both of us- We will simply alternate weekly.
Weekly classes will run Mondays, Tuesdays + Wednesdays 7-9 pm,
Location
Meetings are held weekly at Crit Club members' studios or at our NEW base location TBD for the first classes and middle guest critic classes.
For our Spring class we are hosted by AGENCY which is a project space located at 20 Jay Street in DUMBO, Brooklyn. AGENCY was established by Meta Meta Meta, LLC with the goal of promoting underrepresented emerging Brooklyn based artists. Fall we were hosted by Abrons Art Center.
Agency is run by META META META LLC, which is a collaborative arts organization run by artists Leah Wolff and Guy Ben-Ari. Since 2009, they have been facilitating creative and discursive activities with the aim of supporting a diverse community of underrepresented artists through collaboration and community engagement. Meta Meta Meta LLC teaches workshops, organizes events, and produces publications in order to empower the public through increased access to the arts.
Eligibility
This is a course for serious visual artists over 21 years of age. Most of the class participants have BFA's already and many in the class also have MFA's. Participants ages currently range in age from 22- 60 years old. It is recommended that applicants have completed at least an undergraduate degree in art and are open to the critique process, as that is the main aspect of the course.
Can't join for all 15 Weeks of classes? Let us know how many you could come to and we will see what we can do if accepted...At least 11 classes are encouraged.
To Bring
Bring 1-2 pieces or more: Homework due that week and/or instead one artwork you want a crit on. Also, bring a sketchbook and pen for notes.
NEW! Other NYC Crit Club Class options A-C
Independent studies and online class options! Create flexible classes, customizable dates and critique goals that work best for your work and project!
NYC Crit Club Independent Study- Option A: Individual Studio Visits
In person Individual Visits from one or both: Catherine Haggarty or Hilary Doyle
With either or both
Catherine Haggarty: Artist, Gallery director and curator.
Hilary Doyle: Faculty at RISD and Purchase College
Option A -
- Email or facetime consultation on your goals and aspirations such as improving and developing your work, professional practices, and life plan as an artist.
- One one hour visit.
Cost: $90 per visit
NYC Crit Club- Option B: Digital/email Independent Study
Self directed and collaborative with feedback on studio work, new studio processes you'd like to learn or applications questions and editing of statements/resume. Sharing portfolios via google drive and two skype studio visits per package.
Cost: $180 per month which includes:
Email or facetime consultation on your goals and aspirations such as improving and developing your work, professional practices, and life plan as an artist. Work with us to develop a curriculum that best fit your projects needs including the following.

Two 40 minute Facetime studio visit crits of your work or professional materials.

Bi- Weekly feedback on digital images of work, application writing for residencies, grad schools, application images.

Website feedback
NYC Crit Club- Option C: Online Crit Club Group (customizable)
Cost: $120 per month which includes:
In online crit club applicants from across the country join as a class of 10 accepted artists who will be put in dialouge. In addition to email exchanges with Catherine and Hilary. Participants will also be paired to exchange online critiques using facetime with one another as well as guest critics who are NY artists.
Email or facetime consultation on your goals and aspirations such as improving and developing your work, professional practices, and life plan as an artist.

Bi -Weekly Facetime crit of your work from Hilary and Catherine (alternating) through video or images of work in your studio

Facetime Crits with participating artists from across the country once

Information on professional practices and applications for residencies, or MFA programs, or show info.
To apply for any of the options above follow the application instructions listed and specify of options A-D you might be interested in.
Faculty Bios
NYC Crit Club is coordinated and taught by artist and co-instructors Catherine Haggarty and Hilary Doyle
Catherine Haggarty is an artist and curator based in Brooklyn, New York. b. 1984 received her M.F.A from Mason Gross, Rutgers University in 2011 and is currently the co-director of Ortega y Gasset in Brooklyn and a contributing writer for the Curator. Haggarty's paintings & curatorial work has been reviewed & featured in Hyperallergic, Two Coats of Paint, Brooklyn Magazine, The New York Times, The Wall Street Journal, Maake Magazine, The Black and White Project, Sound and Vision Podcast and Young Space. Selected Exhibitions include: LeftField Slo (CA), The Provincial (MI), Bridge Productions (Seattle, WA), CGK Gallery (Copenhagen), Art on Paper Fair (Armory Week), Paper Paris (France), Geoffrey Young Gallery (MA), Design Sublime (Miami, FLA). Solo shows include This Friday Next Friday (NYC), One River School of Art and Proto Gallery (NJ). Teaching experience includes Rutgers University, Abrons Art Center, Princeton Day School, Philadelphia Mural Arts and One River School of Art and Design. She has been a guest critic at Nars Foundation, Residency Unlimited, The Wassaic Project, Abrons Center for the Arts and Trestle Projects.
Hilary Doyle is an artist and faculty at Rhode Island School of Design in both the Foundation Department (EFS) and Painting Department. Doyle also has been teaching at Purchase College and Brown University for the last few years. Classes taught include: Foundation Drawing, Painting Marathon, Painting I/II, Advanced Drawing, Professional Practices and Materials and Techniques. She also teaches independent studies with RISD MFA students in the Painting Department. Doyle received an MFA from Rhode Island School of Design and a BFA from the Massachusetts College of Art and Design. She has exhibited at spaces such as Monya Rowe Gallery, Field Projects, Parlour Bushwick, and Erin Cluely gallery in Texas and has had solo shows at the Active Space and Brown University. Her work has received press coverage in Hyperallergic, Bushwick Daily, and New American Paintings Blog. Doyle is a recent recipient of a residency at Mass Moca Museum of Contemporary Art in North Adams Mass. She curates with Reid Hitt as HR Curating and was co-director of Projekt722 gallery for three years.
Check out our Instagram @NYCCritclub! #NYCCRITCLUB and last semesters #AbronsCritClub
Credit: Top Image: Paintings by Madelyne Harmon, Colleen Blackard, and Mark Zubrovich (From original crit club iteration of artists)